Glass Erectors is a full-service company that is capable of performing large curtainwall and composite panel projects down to the smallest storefronts.


Commercial Partners



For over 50 years, Kalwall has been renowned for its quality, performance, engineering expertise, aesthetic value and total company integrity. The cost effectiveness of this lightweight, highly durable, unique translucent building panel technology is unparalleled. Although often selected for its aesthetic value and performance features alone, Kalwall is also more affordable! From initial purchase price to installation costs, maintenance and energy savings, Kalwall is the most affordable solution to countless design challenges.


---

Alucobond® is used as cladding for many diverse applications such as office buildings, hospitals, convention centers, airports, hotels and for critical design elements such as entrances, canopies, column covers and interiors. Alucobond® adds a crisp clean metal look that will add an
image premium to any application.


---
Kawneer North America offers architectural aluminum building products and systems for the commercial construction industry. Their comprehensive product line includes entrances, framing systems, windows and curtain wall systems. From thermal efficiency and sustainability to hurricane and blast resistance, Kawneer products are designed to optimize both aesthetics and performance.


---

Oldcastle Glass is the leading supplier of Building Envelope solutions, including architectural glass and the following aluminum glazing systems: custom-engineered curtainwall and window wall, architectural windows, storefronts, entrance doors and skylights. Add to that, insulating glass units, heat-treated glass, laminated glass, fire-rated glass, and more. And in addition to the most comprehensive collection of architectural glass, Oldcastle Glass also engineers and manufactures curtain wall and window wall systems, architectural windows including operable windows and fixed windows, glass entrance doors and storefronts.


---

United States Aluminum produces a quality selection of entrances, storefront, curtain wall, windows, hurricane resistant, blast mitigation and ribbon wall systems. Facilities across the United States and Canada provide regional customer support and distribution. After more than half a century of manufacturing and engineering excellence, United States Aluminum has positioned itself as a leading architectural aluminum provider to the commercial construction industry.


---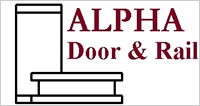 Alpha Door & Rail, Inc. is a designer and manufacturer of tempered glass entrances and architectural railing systems with an extensive background in custom metal fabrication.